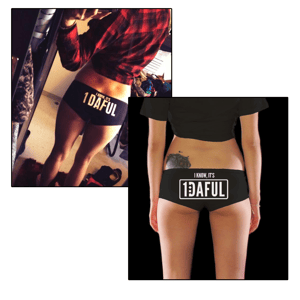 $

20.00
These black booty shorts are for the ladies who are confident as F@#K and know, that booty is 1DAFUL!
If you wear these, make sure to share the love of your booty with everyone! #1DAFUL
Pre-Order these booty shorts NOW!
*Please Note: this is a pre-order. These limited edition booty shorts will be unavailable once the pre-order is finished on November 27, 2014 at 11:59pm.
*Booty Shorts will only be shipped starting mid-December, 2014.
*Actual design is on the image with the black background.